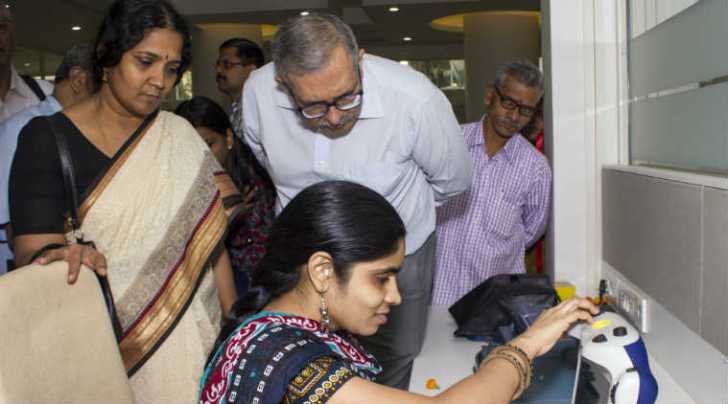 This facility was inaugurated by Prof Devang Khakhar, Director of IIT Bombay
The Indian Institute of Technology-Bombay has opened a new facility for the visually-impaired students at the Central Library in the Powai campus. The Institute has procured all modern aids and appliances such as the latest version of the Jaws-screen reading software, Plextalk pocket daisy player and recorder, Perkins smart Brailler, Braille embosser/printer, Kuzwell or Open book scan and read software, Zoom X or Pearl- document camera-works as instant reader, Sangeeta Software to convert txt files into mp3 files, Eye-Pal Rol portable scanners and readers and Prkins standard Brailler, the institute said in a statement.
IIT-B director Devang Khakhar inaugurated the centre and said it is a positive move towards social inclusion and hinted at the possibility of individual facilities for each visually-challenged student in future. Meanwhile, in an attempt to bridge the barrier between emerging technology and emergent users through a bottom-up approach, the students of the Industrial Design Center of the IIT-B, in collaboration with Swansea University of Britain developed a 'physical web' for residents of the Dharavi slums to help them promote their business.
READ: Tech pitch for leather shops in Dharavi by IIT
This is part of Google's Internet of Things Technology Research Award. As part of the project, 100 devices called 'beacons' provided by Google are being deployed in the largest slum in Asia in the heart of the megapolis. In the the first phase of this plan, 30 shops in Dharavi are being connected to the physical web through these beacons.
Source: http://indianexpress.com/article/education/iit-bombay-opens-facility-for-the-blind-students-4461578/
Source:
http://indianexpress.com/article/education/iit-bombay-opens-facility-for-the-blind-students-4461578/