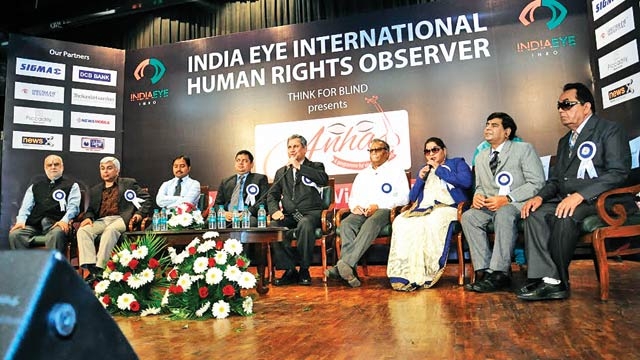 15 visually impaired people, including IAS officers, professors, athletes, and musicians get recognition at IHRO event for their incredible resolve and subsequent success.
 
Dr Garimella Subramaniam, more popular as Gary Subramaniam, was born in Vishakhapatnam, Andhra Pradesh. He completed his early education in Madras. After his schooling, he not only went on to do his post-graduation in Politics from the reputed Jawaharlal Nehru University (JNU), but also earned a doctorate in Political Science from the prestigious London School of Economics (LSE). The 56-year-old scholar now works as the Deputy Editor of an English national daily.
While it all seems like a tremendous achievement, what is even more awe-inspiring is the fact that Subramaniam was born visually impaired.
"After my schooling, my father asked me to return to Vishakhapatnam to join a 'special' college there. I told him that I will not go backwards in life," Gary says. "If you are a disabled person, JNU is a great place to study. People are very supportive and the intent is always positive," he adds.
Now, while others may find it unusual that a visually impaired person holds the important post of a Deputy Editor, Subramaniam says that, in fact, he did not face any difficulty landing the job. In 1995, his employers imported a special software device from England for him, which converts text to speech. Currently, he has no problem in keeping himself abreast with news, editing copies, and writing articles. The software, Job Access with Speech (JAWS), helps him do his job without any hassle.
"I see that progress is happening at a faster rate. Earlier, people were prejudiced because there was ignorance and lack of social awareness. But times are changing," says the happily married man.
Subramaniam was one of the 15 visually impaired high achievers at be honoured at an event, 'Anhad', organised by the India Eye IHRO, International Human Rights Observatory. "Drishti ki nahi, drishtikon ki zaroorat hai (they do not need eyesight, they need a vision)," India Eye IHRO Managing Director Rakesh Sharma says.
"India has the largest population of visually impaired people, nearly 15 million. The total population of such people in the world is 37 million. The idea is to have an inclusive approach towards visually impaired citizens, to ask them to engage and to provide them productive employment," he adds.
Jagdish Luthra, another such achiever, founded the Rosemary Institute in Meerut. The institution provides subject-based knowledge for various competitions, including Civil Services, NDA, banking, and so on. "There should be no special schools for people like us. Let us organise integrated programmes, where everyone gets an equal opportunity and the visually impaired are not considered different," says Luthra, who cannot see since birth.
"My family did not know how to make things accessible to me. I had to inject the confidence in them that this hindrance did not make me lesser than others," says Rajesh Singh, Joint Secretary in the Women, Child
Development and Social Welfare Department of Jharkhand, and the Project Director for the Integrated Child Protection Scheme.
Singh was in Class II when he lost his eyesight in a school bus accident. Consequently, he had to undergo several surgeries, but he always bounced back. He then went on to do his graduation in History (H) from Delhi University (DU).
The IAS officer is also an athlete and has special love for cricket. He has represented India in the Blind Cricket World Cup thrice. "I first participated in the World Cup when I was in Class X. Despite challenges, I never compromised with my dignity, with the choices I made, be it professional or personal," Singh says. Initially, there was some reluctance from the system to appoint a visually challenged IAS officer, but in December 2010, the Supreme Court made it clear that an IAS officer required vision, not eyesight.
Singh has also written a book, I: Putting eye in IAS, which was launched by Lok Sabha Speaker Sumitra Mahajan in 2016. "Everybody is writing on disability. I felt the voice should come from within the group," Singh says. The book is a fictional narrative about a visually impaired boy, who makes it into the Indian Civil Services. Singh denies that it is his story.
Then there is Bhartendu Pandey, a Senior Sanskrit Professor at DU, who lost his eyesight in Class XII due to degeneration of nerve cells. The scholar has just one request: "All the material available or accessible to us is in English. There is no content or device that can help with Devnagari script or other Indian languages. I request the companies that make these devices to consider this."
The other people honoured on the occasion were S K Rungta (Senior Advocate, General Secretary of the National Federation of the Blind (NFB), President of Asian Blind Union), George Abraham (SCORE Foundation Founder), Dr Kusum Lata Malik (Senior Professor, Hindi, DU), Dr Anil Kumar Aneja (Professor, English, DU), Shekhar Naik (Captain, Indian Blind Cricket Team), Guman Ram Patel (Deputy Director (Retd.) Social Welfare, MP, Chhattisgarh), A K Mittal (President, AICB, Secretary General, World Blind Union), P Manoharan (Project Director, Southern India, NFB), Puran Chand Nagpal (Ghazal Singer, Composer, and Musician), and Divakar Sharma (SaReGaMaPa fame).
Source: http://www.dnaindia.com/delhi/report-high-achievers-who-lost-eyesight-but-not-vision-honoured-2338477
Source:
http://www.dnaindia.com/delhi/report-high-achievers-who-lost-eyesight-but-not-vision-honoured-2338477